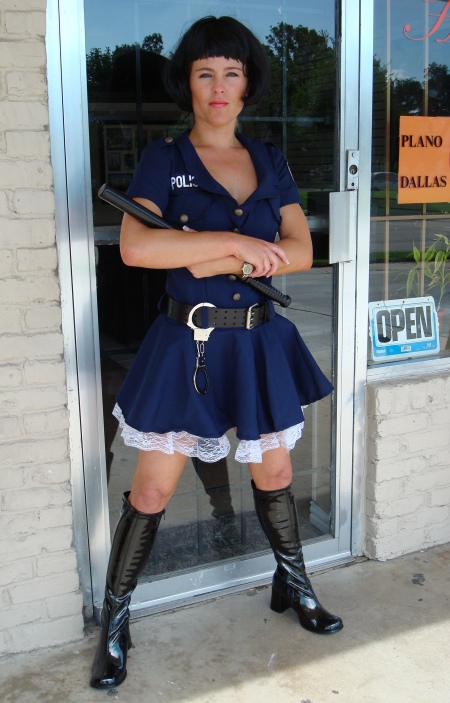 A friend made an allusion to a character created by Seinfeld when referring to the lifeguards at her ALMOST new pool for the summer. I checked out the comments for once, and came across a PC policewoman, complaining oh-so politely about the author's use of the word 'Nazi' in this day and age. (Side note: watch out when doing a search for images of 'policewoman!' Definitely NOT that same gal who wrote me a ticket for running the stop sign at the bottom of Albion at 1 am in the morning, but I digress . . .)

Procrastinating my Herculean task of mowing the 20 acres of barely usable front yard (thanks to our location on a corner lot with a lot of passing dogs, lack of fence, and idiots that like to break glass beverage containers on a regular basis rounding said corner), I checked out the profile of said unpaid public servant, so see just what sort of gal is 1) totally lacking a sense of humor and 2) feels the need to correct total strangers on the internet to make the world safer for everyone else.

She has a blog dedicated to pointing out the common-sense errors of people as she comes across them. A woman in a store had the audacity to NOT strap her 13-month-old son into the cart, and he was trying to escape while she tried to coral her other child. Luckily PC-woman was on the job, and helpfully pointed out the error of her ways in leaving her child unrestrained. I can only imagine the harried woman's thankfulness at this helpful comment. I'm sure that an offer of help would have been TOTALLY unappreciated. Fortunately this woman was not offering her son something as deadly as non-organic chocolate milk or some such toxin as a bribe to get him to sit down in the cart, or Child Protective Services might have been called.

This is stuck in my head, because the other day on a trip to Target to procure swim shirts for my two little fish, in my attempts to NOT start the growth of melanomae before my children reach pre-school, Princess Katie threw a great fit because it was HER turn to ride in the actual seat of the cart. I didn't have time to bail on the project, so she scored the seat and Alex scored the basket. Which he naturally refused to sit down in, but insisted on standing up so he could see everything. I took it easy on the bumps and managed our shopping headed to the car.

Close to the car were two moms carrying their 6-9 month old children (old enough to support themselves, not developed enough for escape maneuvers). Boy, did I score a super stink-eye and some serious smirking/shaking of the heads. It's just so interesting to me how critical moms are of other moms, when someone else's method is not the same as their own. Like there is one way to raise a child, they know it and are soon to have it patented, and any deviation from said method is tantamount to raising a serial killer.

People are funny. And sometimes I want to carry around a squirt gun to shoot down the self-appointed police out there, criminal that I am.